PLASTIQUE POP - Fall 2009


"Ok kids, perk up your ears cause this is something you don't wanna miss out on. If you dig the soultastic sounds of modern kicks & teenage energy, then you'll flip your lid over what MOD FUN has to offer. Since jury-rigging a band together in '79 (sh*t man, I wasn't even born!), they've caried the r'n'r torch thru the years & championed it's legacy w/ unrelenting passion & furor. Anyone who can upkeep a culture like that with so much style & flair gets my vote. But most importantly the music is top-f*ckin'-notch. Consider it uncut & habit forming! MOD FUN are fast becoming one of my current faves & I think anyone with a love for solid mod-influenced r'n'r would find something in these guys to get into. Like I stated earlier, these guys have been in the game longer than anyone, so they deserve some mad resepect. . . let's just pray that they hit the road sometime soon so we can all witness the illuminated light that these guys are carrying. Don't be in the dark any longer!



BlowUpRadio.com - Summer 2007
So how was the set...? Incredible! Despite it all, these veterans kept playing their brand of British garage rock that made both the young and old mods happy. Mod Fun played a lot of tracks from their new 20 track CD, "now...and again", named because the first 10 songs are brand new (now), and the last 10 are remakes of songs their songs from the 80's (again). What's great, once they fixed the vocal problems, was hearing this three piece (guitar, bass, drums) rip through a song that had Mick handling the leads, and Bob & Chris both singing backing vocals.

Mod Fun doesn't play out regularly these days, but hopefully with the new CD out there will be more shows in the near future. In the meantime, pick up "now...and again", it's a great CD.

Asbury Park Press - 10.2005


Groovy, baby! Austin Powers would have felt right at home in Asbury Park on Saturday, when the 1960s were revisited at "Modsbury Park 2," a retro-dance party at Asbury Lanes, 209 Fourth Ave. "Modsbury Park 2," a spinoff of a two-day event held at the Lanes last year, was organized by Mick Hale of Ocean Grove. Hale is also a DJ at Asbury Lanes and a member of the Mod Fun band, an '80s garage band that performed...



Jersey Beat Blog - Fall 2004
"My old buddy Jim DeRogatis and his wife Carmel came into town for the weekend....then on Saturday, we all went down to Asbury Park for the Mod Fun reunion.
For the uninitiated, Mod Fun were an Eighties band that, as the name implies, played mod British-influenced pop music, released a few albums and singles, and broke up rather acrimoniously in the middle of a European tour. That was 17 years ago. More recently, the trio - Mick "London" Hale on guitar and lead vocals, Bob Strete on bass, and Chris Collins on drums -had rekindled their friendship and started jamming together on some of the old songs. One thing led to another and on Saturday night, the band played together again, remarkably tight and relaxed for a band that hadn't been on stage for nearly two decades!... And then, complete with smoke machine, stage lighting, and enough paisley to poke Emma Peel's eye out, Mod Fun were back. Who knows, maybe this will lead to more gigs. The old songs certainly sounded great, and everybody - audience and band - seemed to have a great time. And besides, I'll be too old in another 17 years to see them to play again."

Asbury Park Press 9.2004
If things seem a little bit swirly in the city by the sea this weekend, that's because you've entered "Modsbury Park." Yes, Asbury Park will be invaded by the paisley underground, the garage revival and various other still-cool sounds. Shows and events are scheduled at The Saint and Asbury Lanes. At the helm of the "Modsbury Park" weekend is Mick Hale, known to club-goer's in the '80s as Mick London...


The Bob - Summer 1986
MOD FUN - 90 Wardour Street
"...Early Pink Floyd and The Creation are probably their major influences (along with some cubes of Mr.Bubble), and you can hear it in songs like "I Can See Everything Around Me" and "Fade to Mirror." Both are excellent examples of psycho-pop masterpieces, which don't need the druggy novelty noises that crappy groups like John's Children and The Wimple Winch relied so heavily on....Well, I don't exactly know what that one ingredient is, but a Mod Fun show makes me feel young again. Hell, I'm only twenty-two, but all that brainy, self indulgent REM crap has turned me into a withered soul. Thank God for Mod Fun and their legion of Mod chicks!..." --Mike Stark

The Aquarian - 16.10.85
MOD FUN - 90 Wardour Street
"Mod Fun have stopped trying to sound exactly like their 6T's role models and have instead reinvented the Mod sound for their own purposes. As a result, this record... succeeds on its own terms. Still mod as all get out, it sounds '80s, not reactionary. And check out 'American Dream' a pissed-off surprise." --Paul Bubny

Sweet Potato (Boston, MA) - 7.85
"...here's a trio of New Jersey gents who recall the best of the psychedelic era and the British Invasion. Best here are the hooks, which absorb the listener... and the vocals by Mick London, which bring back memories of the British invasion and mid-60's rock.... This is a fun record, which is all it promises to be."

Incognito # 4 - ?.1985
"...further south, in North Central NJ, comes MOD FUN. Don't let the name fool you. These guys aren't only mod revivalists. Their single "I Am With You" b/w "Happy Feeling" is more garage like in sound than anything else. They use a lot of English R&B sounds as well as American Garage Pop and a rockin surf beat. Looking forward to a solid LP by these fellows.


Smashed Blocked # 1 c.1985
"...These guys seeotter everytime I see them. One things for sure they are THE MOST PSYCHEDELIC band on the whole NJ/NY scene. Their infatuation with 1966 British sounds is quite evident with a slew of covers of cuts by The Birds, Artwoods, Eyes, Pink Floyd, etc. These guys have moved away from that awful mod stereotype mold and branched out just far enough without losing their listeners. Be sure to catch them... A legend in the making"


Sounds (UK) - 14.9.85
MOD FUN - 90 Wardour Street
Mod Fun's beat is well intentioned. The matrix's message, "I Think I'll Get My Washing Done" will make cynics snigger...


* Scans from the

UK & USA

"Info Service/Fan ("Fun") Club(s)"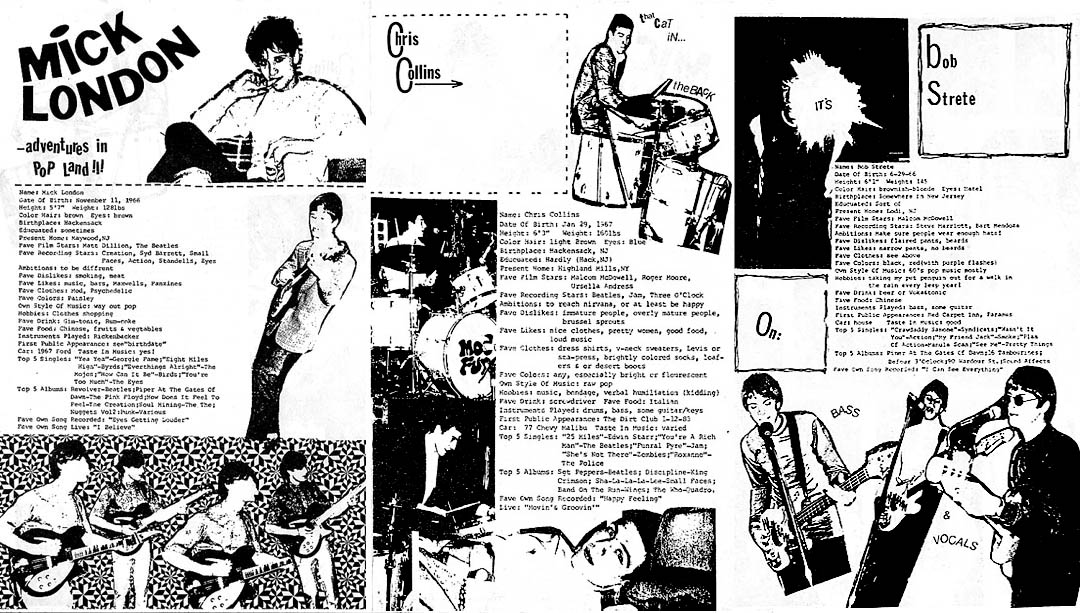 TriCityNews - 12/2009



Plastique Pop - Fall 2009



The Coaster - Spring 2009



TriCityNews - 9/2005



MOD FUN Tour Diary 80's



MFtour diary pt2 by DeRo



BangMagazine (Boston80's)



Matter Magazine - 9/85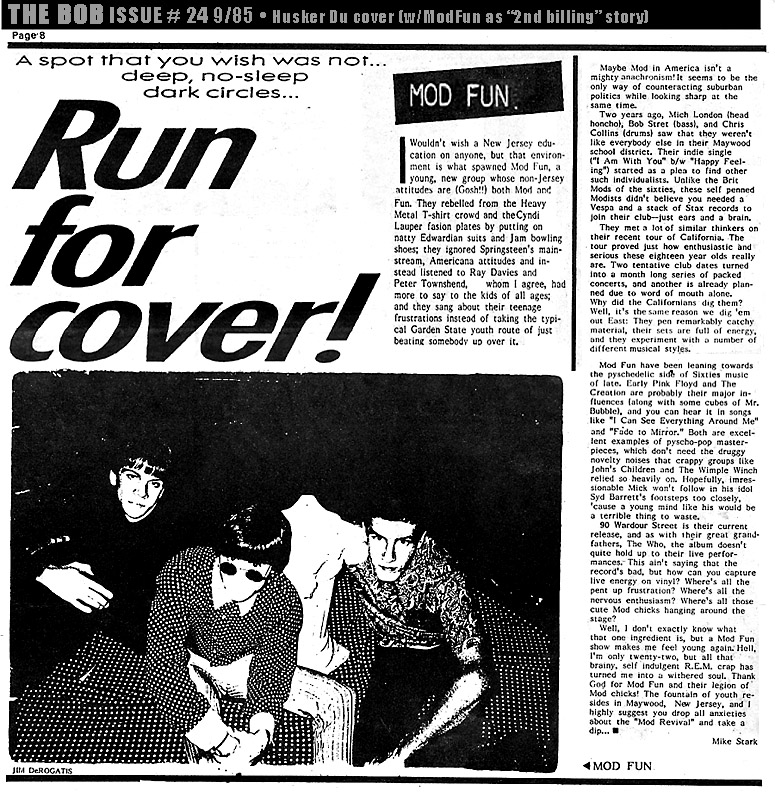 The BOB - 1980's Nat'l Mag



Smashed Blocked 1980s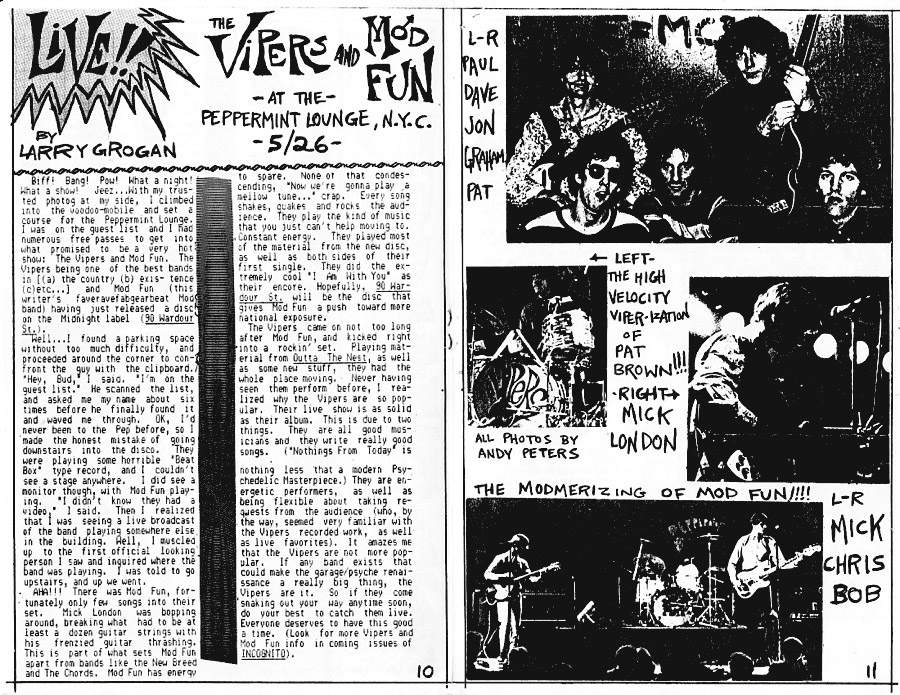 Incognito MF @ThePep,NY



Hoboken Reporter 12/84



Das Comeback - German 80's

THE RAG - Spring 2009
"I haven't had as much fun listening to an album since I first opened up my copy of "Can't Stand The Rezillos"... This is high energy psychedelic/garage music for the roots oriented... their sound possesses a retro yet contemporary feel... elements of the british invasion (KINKS) as well as punk (BUZZCOCKS)... if you can sit still to their music, you must be dead!" (click here to read the whole review)...

Popism-music.com - Summer 2007


Releasing their third (extra)longplayer, no less than 20 years after they'd offered anything new to the in-crowd these "Jersey-bred avatars of the '80s Garage/Cavestomp scene", are ready and willing to have some more "mod fun". With almost all of them being available in their original form on their recent Get Hip CD comp "Past ... Forward", I'm not really sure why they chose to re-record 10 of their older numbers. Anyway, with an extra punch added thanks to the moderndaze technical wonders, their inclusion in the form of a bonus, kind of makes sense after all, at least as an excuse for the more than appropriate album title. Still, in the truest sense of all things mod, it's the "now" that counts, and the one that introduces the now-Fun, is the full-blown fuzzfest of an opener

"Take it All Back"

with it's slightlydelic garage-punk vibe, which is pretty much how I'd describe

"All the Away"

as well, and with the fuzz pedal still turned up loud,

"Die for Me"

is a bit closer to their more distinctive mod-ish power-pop.

"Andy Warhol"

is the one that seems to put things much closer to the initial '80s concept, by the pop-artish ways of The Times, which is what they stick with for the following paisley-popsikle pair of

"Oh so Much

and

"Tonight",

with the latter throwing in some of that "model" estabilished by Kraftwerk, followed by the janglier side of The Jam heard in

"In the Moment"

and later on in

"We're What We're Living For"

, closing the Now, before they go on Again.

Still fun "now" as it used to be in the "past", so you should look "forward" to hear them "again".


WMBR Radio - Summer 2007
"Breakfast of Champions" blog
Mod Fun - "I Fell"
A bit of serendipity here as their name came up on the cubbyhole feature 6.28, about the same time their new release dropped into the station. Half the new release is new, half are re-recordings of older songs. This is one of the latter, the subject matter has a strong resemblance to a certian Buzzcocks song but is more actual than theoretical. The only mod facet of this band is in the vocals, otherwise the sound is straight late 70's pop-punk.


Jersey Beat Blog - Fall 2005
It's a Mod Mod Mod Mod Mod World
Back in the mid to late Eighties, Mod Fun were one of NJ's most popular indie bands, regulars in the NYC-based "Cavestomp" garage scene of the era. When they played Maxwell's, their Mod fans would turn out in force and you'd see Vespa scooters outside lined up all along the 11th Street wall of the club.

Mod Fun broke up and singer Mick London became Mick Hale, pursuing a long, successful career in the goth/industrial/techno group Croc Shop. But last year, the three original members of Mod Fun starting jamming in the basement, one thing led to another, and they wound up playing a fun reunion gig at The Saint. On Saturday night, they did it again, this time at Asbury Lanes, and it was even better.

I should preface this by noting that Mick is one of my oldest and closest friends; we even played together in a band back in the Eighties. And it might seem a bit odd to see three guys all pushing 40 now decked out in paisley and playing songs they originally wrote and recorded as teenagers. But you know what, it still works.

For one thing, Mick, Bob, and Chris can all still pass for 30. But age isn't even the issue.

It's all in the songs, you know. It always is. That's why the Pixies could come back, and Mission Of Burma, and even the Sex Pistols. Because all those bands had songs. And so does Mod Fun. The stuff still jumps; Mod is really just power-pop with a British accent and a little soul, and Mod Fun songs like "I Am With You,"
"I Can See Everything Around Me," "I Fell," and "Hope It's Today" still ring out with the urgency and unbridled optimism of youth... only now, delivered with the precision (especially vocally, now that the whole band has really learned how to sing harmonies) and confidence of adults.

Asbury Lanes has become NJ's new home of retro sounds, so it was the perfect venue for the show too. I got to bowl with Mick's mom, brother, and partner Mike (part of my rock 'n' roll extended family) and boy, did that feel good. The Dansettes, who opened, were a lot of fun too - three girls on vocals backed by a band of young guys in black suits, all presented with a lot of kitsch as a Sixties lounge act.

Mod Fun really needs to play Maxwells again. And we'll see if any of those Vespas show up.

Sound Choice #4 - Spring 1986
"These '60's revivalists deliver solid, rocking songs exhibiting a mastery of many styles. This three piece band from Maywood, New Jersey is led by guitarist Mick London whose frantic garage-power attack is impressively mixed with the British Invasion harmonies of bassist Bob Strete and drummer Chris Collins "A Minute Twenty" features jangly guitar and tambourine- shaking evoking nothing less then the Monkees-with-a-purpose." --John Grooms


Matter Magazine # 13 - 9.85
"...while Mod Fun pack themselves into some mightly snazzy threads, they go far beyond the standard Who/Jam/Secret Affair trinity of musical knowledge. Mick London's knack for multi-hookin' was neat enough on the "I Am With You" 45, but a whole buncha self-editing, self-confidence and self-discipline got added since. Big tall bassist Bobby Strete always endangers ceilings w/ Townshendian leaping prowess, but Mr. London remained a bit reserved. Now, especially on more grunge-oriented numbers like "A Minute Twenty," he's loosened the (skinny) tie a bit. -...The material on their new Midnight platter, 90 Wardour Street bears only a passing resemblance to the hi-school combo that bounced outta Hackensack a year and a half ago. Sez London, "The band attitude is a lot more open now. We saw lots of Mods getting so narrow-minded that they would only dance to the most obscure soul covers." Though Stax'n' stuff still rings out in the groove jumpin' of their more uptempo blasts,...the new Mod Fun material like "Fade To Mirror" indicates a few listens to "See Emily Play." As long as they can avoid the Maharishi, they'll be a hipswayin' good time."

Free Magazine (NYC) "...tell me how you can't like this?"
Ink Disease (LA,CA) "...Swinging sixties Garage Punk"
OP Magazine (WA) "...faithful to the early mod/R&B/pop-art genre"
Big Takeover (NY) "For all those as fedup with the Style Council as I"
Maximum RnR (CA) "MF's general tone of aggression has to be admired"
Waterloo Station (NY) "an energy packed trio - deserve all the recognition they get"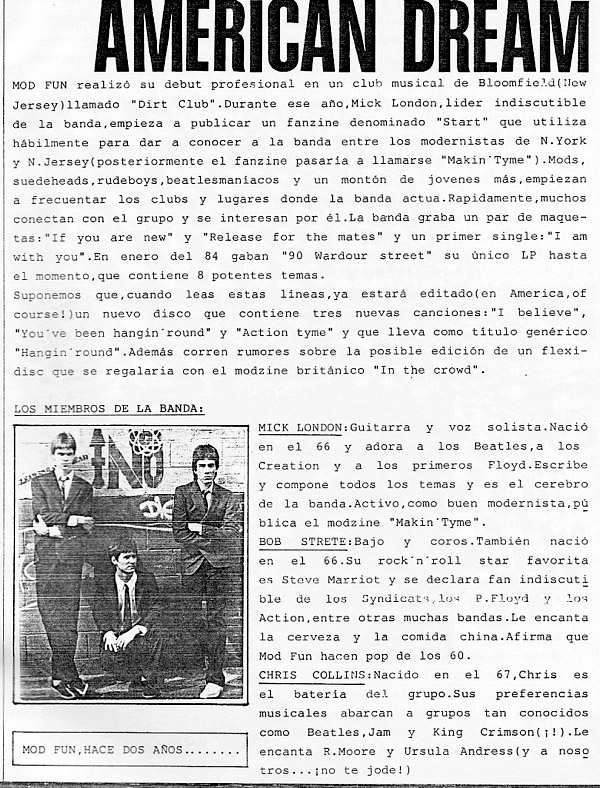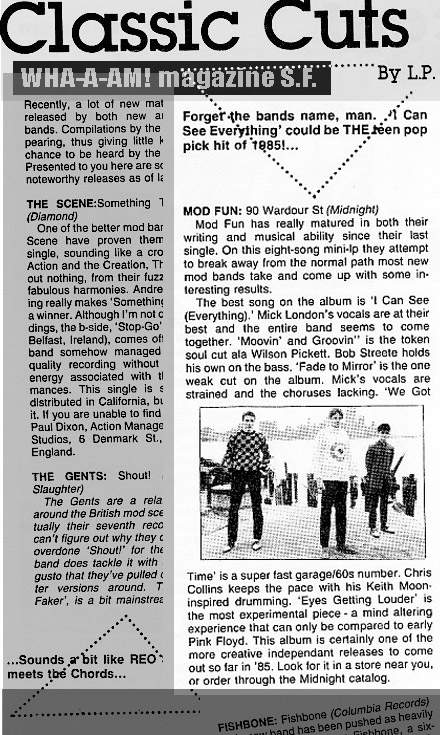 L-R: "Dexedrina(Spain)" / "MysteryScene(UK?)" / RiderReview (NJ)/ Whaaam! (SF)

Check out the What Wave Magazine Scans Click Here!!!